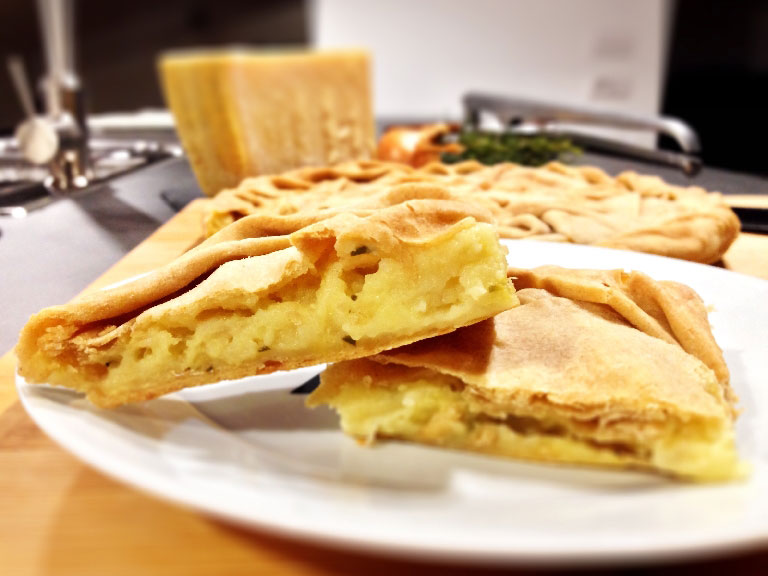 This savory pie is one of the traditional pies of the province of Parma.
there are a thousand of recipes and a thousand of variations around, from village to village,from family to family.
Ingredients:
for the dough
250 gr of flour
1 teaspoon of salt
50 gr Extra virgin olive oil
125 gr of warm water
for the filling
1 kg of potatoes
1 shallot (or a piece of leek),
1 sprig of rosemary
150 ml of milk
150 gr of grated Organic Parmesan cheese
20 gr of butter
salt
Method:
Make a fountain with the flour and add all the ingredients for the dough.
Mix well and work for at least ten minutes until the dough appearsoft and smooth.
Let it rest for half an hour.
Boil the potatoes with the peel, in the meantime in a pan fry the
shallot (or leek) cut into thin pieces, with the rosemary.
Cook slowlywith a splash of water.
Peel and smash the potatoes, add the sauté shallot , mix well , then add the milk, the butter and the parmesan cheese and season with salt.
Mix until you get a soft compound similar to mashed potatoes
At this point roll out a portion of the dough until you obtain a thin sheet that you will put onto
a baking sheet, previously greased with oil.
Add the filling (about 1 cm high) and then cover it with another very thin sheet of dough, that you will leave slightly in waves.
Bake at 180 degrees for about 30-40 minutes.
Serve it hot with a slice of Parma ham or Culatta an it will be a real treat!