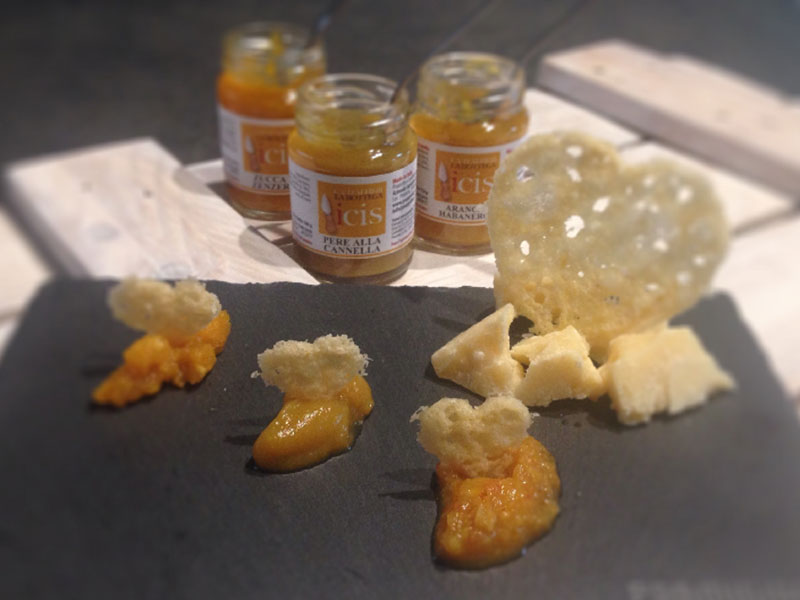 You know the spices are aphrodisiac, but especially ginger, cinnamon and chilli! so why not try our cutting board of spicy compotes
for a super-fast aperitif suitable for a romantic evening?
Method:
Prepare the heart-shaped Parmigiano chips (or whatever shape you want).
put the baking paper on a plate lay the chosen mold and fill it with grated Parmesan, press it well to obtain a thickness of 2-3 mm, remove the mold making sure that the parmesan remains intact, put it in the microwave at the maximum potency until the parmesan is melted and turned golden brown.
Remove from the oven, remove from the paper and set aside.
Now it is time to assemble everything.
On a slate board (but also on a wooden cutting board or a nice serving plate) place a tablespoon of compote for each flavor forming a quenelle, add a small parmesan chips on each compote cut the Parmesan with the special knife and put it on the cutting board.
And the aperitif is ready!
To make the appetizer even more complete and delicious if you want you can add a few slices of Culatta di Montagna, or Parma ham DOP and a few drops of Traditional balsamic vinegar of Modena.